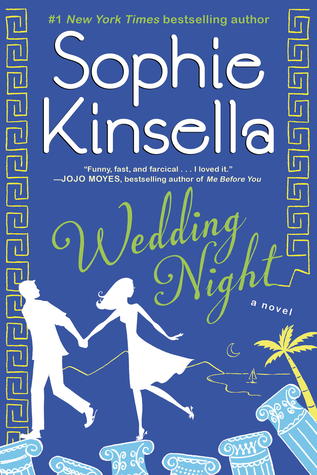 Sophie Kinsella has done it yet again. She has written a witty, romantic comedy, full of whimsy. Wedding Night takes you on a roller coaster of emotions while keeping an upbeat demeanor. This book introduces you to an over the top romantic, star gazing type of girl named Lottie. She has this theatrical way of viewing her life and how things are going to happen. And Lottie is so certain that her boyfriend Richard is going to propose to her over lunch one day in a fancy London restaurant that she begins telling people before it has even happened. But when the "big" question isn't a proposal, but a trip to another country, Lottie is devastated and embarrassed. All that Lottie wants at this point in her life is to be married and start a family, so when she believes that Richard wants nothing of that, she leaves. Then, out of nowhere, her first love, Ben, calls her and while reminiscing he reminds her of their marriage pact if they both found themselves single at age 30. Being married is all that Lottie has on her mind, and Ben is just as attractive as when they were teenagers, so with that lust coursing through her she gladly accepts. But instead of having a big ceremony like she had always dreamed of, they opt for a quick walk down the aisle with a honeymoon on Ikonos, which is where they first met.
Lottie's older sister, and best friend, Fliss, is shocked. Lottie has done outrageous things in the past after a breakup, but never anything of this caliber. And Lorcan, Ben's workmate and friend, worries that Ben is rushing into this marriage way too quickly and sees it as a disaster for the business he just recently inherited. So Fliss decides to take matters into her own hands. After going through a brutal divorce herself involving child custody, the last thing she wants for her sister is for her to get pregnant only to regret the whole marriage later on and go through everything she is going through. So Fliss comes up with a crazy game plan to ruin their wedding night and honeymoon. Fliss and Lorcan are headed to Ikonos while Lottie and Ben are experiencing a honeymoon that they will soon not forget.
I have not yet read a book by Sophie Kinsella that I did not enjoy. She has this way of writing that just pulls you in and grips you. The plot line of Wedding Night is hilarious and things keep moving at just the right pace. Kinsella is great at throwing out unpredictable events so when you think you might know what's going to happen, you're thrown off, but in a good way. This particular story is such a comical romance. Lottie's idea of romance is very much rooted in fantasy, but as the story progresses we gain a better understanding of her character and are just hoping that everything is going to work out for her, whether it be with Ben or somebody else. All of the characters are well rounded, unique, individuals that are relatable. I love the twists and turns the story takes and the game plan that Fliss comes up with is priceless.
Wedding Night is a great combination of romance, comedy and drama. Kinsella's in depth descriptions allow you to put yourself right there in their shoes, and it's easy to find yourself empathizing with all of the characters. What an extravagant piece of writing! Another great novel from Sophie Kinsella.