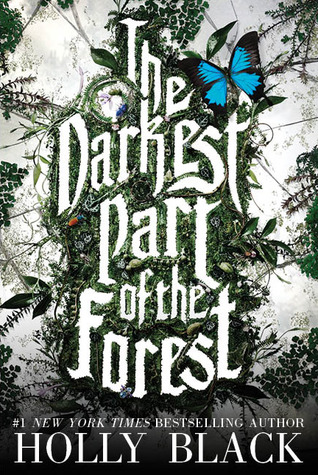 First of all, I need to give a huge thanks to FreeBookFriday for awarding me with this book! What an awesome website! If you haven't been there before, check it out, you have a chance every week to win free books!
The Darkest Part of the Forest
takes place in a small town called Fairfold. Here, humans and faeries exist amongst each other. Tourists from all over the place flock to Fairfold upon hearing about what they believe is harmless magic. But one local girl, Hazel Evans, knows just how dangerous the faeries really are and has figured out a way to stop them. Or at least she thought she had. One of the most mysterious things about Fairfold is found deep within the woods. There you will find a glass coffin containing a horned boy with pointy ears, who appears to be sleeping. Hazel, and her brother Ben, both fell in love with the horned boy when they were children. For as long as the town can remember, the boy has slept in that coffin without ever waking, until now. Hazel finds herself thrown into the middle of the mystery where she has to put her childhood fantasies of being a knight to use. Hazel finds herself struggling with love, loyalties and family and isn't sure if everything she knows will be enough.
This story is a dark fairy-tale, with themes of love and romance, as well as friendship and loyalties. But the most important one I think is the struggle between good versus evil.
When I first began reading, I found there to be an awful lot of info to follow and the story line was a little slow. There were a lot of characters and places thrown at you in such a short section that at times I found myself going back to reread certain parts in order to make sure I understood it right. But once all of that is out of the way, the story really picks up the pace and pulls you in. The rich description of the town and the forest gave way to great imagination. Holly Black did a good job in describing all of the surrounding features and made it easy to get lost in her fairy-tale world.
There were a lot of characters in this book. And while most of them ended up being well explained throughout the book, near the beginning you are given so many new names that is was hard to keep track of who was who and how they all fit together. That being said, after diving more into the book I found that those main characters were strongly developed and Hazel's character especially was relatable. She had such inner strength and tenacity that she held the story. You follow her through her struggles within herself. She wants to do the right thing, but at times she isn't quite sure what that is, so she learns to follow her heart and to let go and trust those that love her. I love the interaction between Hazel and her brother Ben. Anyone who has a sibling, whether brother or sister, can totally relate to the way they feel about one another. Even though they have their disagreements and struggles, when it comes down to it, they'd do anything for each other. The horned boy's character is very interesting. In the beginning you're not sure what to think, or how to think of him, but then he awakens and still you are unsure. Holly Black keeps you guessing until just the right time about his intentions and temperament.
The story really came together near the end and I found myself hooked, especially the last third of the novel. I just got lost in my reading. Holly Black is very good at describing even the most fast-paced scenes so that you can picture it exactly and know where each character is, all while still making it feel quick.

And the true monster in the forest will surprise you.
This book was an interesting read, especially if you enjoy books about faeries and magic and worlds we can only imagine on paper.