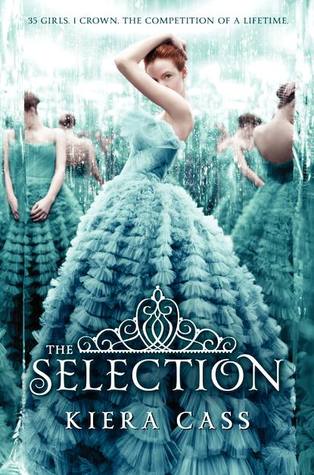 I recently picked up the trilogy for
The Selection
by Kiera Cass and I am so glad that I did. The first thing that caught my eye were the beautiful covers for the books and when I read the backs of them I thought I'd give it a shot. When I first began reading The Selection I thought it was going to be like a cross between The Bachelor and The Hunger Games, just without all of the backstabbing, fighting and bloody battles.
The Selection starts off with a letter. Thirty-five girls from across the country of Illea are chosen for a once in a lifetime chance to become the next princess to the handsome Prince Maxon. It is their only chance to escape their caste system and leave the life they were born into. By being one of the thirty-five and a part of the Selection they are taken up by fancy dresses and sparkling jewels all while fighting for the heart of Prince Maxon. While almost every girl dreams of being given this opportunity, one girl, America Singer, dreads being chosen. If she is chosen she would be forced to have to leave Aspen and their secret love. It is a secret because he lives a caste below her and that type of relationship is normally forbidden because women are not to marry below them. But being one of the chosen she is forced to leave her family and her love, Aspen. She finds herself in a competition for a crown that she just does not want while living in a huge palace that finds itself under attacks from violent rebels. But then America meets Prince Maxon and everything she thought she had wanted and had dreamed about may not be as good as what her future could be.
I have to say that I did love this book! It spoke to me as a teenage girl and I fell in love with the characters right from the start. It's an interesting world Cass has created and while some people may find it unbelievable, it does make for great storytelling and sets up their world for many possibilities. America Singer isn't like most teenage girls, but there are certain characteristics that she possesses that make it so easy for, I believe, any teenage girl (or woman) to relate to. She is a strong heroine who speaks her mind, even if it means she could get herself into trouble. She is not afraid to stand up for what she believes in. Even though she is thrown into this world of royalty which is so far from the caste that she has grown up in, she somehow remains true to herself and retains her core morals and values. She did not want to do the Selection, but she did it to help out her family and because her secret love, Aspen, asked her to. And she couldn't deny him that if that was what he truly wanted. Aspen comes from a caste below America and couldn't imagine taking away the opportunity for her to have everything she needed, when he could hardly afford to support her. When we finally meet Prince Maxon and learn more about him, it's grounding to see that he isn't the stereotypical Prince. He is kind and heartwarming, and incredibly swoon-worthy. While America is mainly there for her family and to get away from Aspen, she decides she may as well become friends with this Prince. But I don't think she realized what that friendship could lead to.
I found all of her characters well rounded and solid. Every personality is unveiled at the right moment and we learn what we need to when we need to. From the heroine, to the Prince, to the forbidden love, to the maids and then to the other girls, each character is essential to the fabrication of the story.
Cass is an exceptional writer. She takes her words and weaves such magic that you are pulled right into this world. She doesn't overload you with mundane details, but gives just the right amount of description so you can picture it in your mind.
America has to try and figure out what it is she truly wants. And we find her going back and forth a few times as to what she thinks she could live with. I think we can all relate to the indecisiveness you can feel as a teenager and at any age. Whether it be love, work, home or anything else, we all face times when we have to make a big decision and I like how America does not rush her feelings but takes things one day at a time.
I personally loved this book and if you are looking for a light and easy read while being entertained and swept up into another world give this series a shot. I am glad that I picked up these books as the trilogy so I don't have to wait to dive into the second one, The Elite.