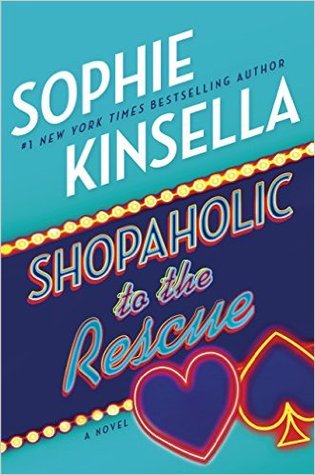 Becky Bloomwood is at it again! This time she is bringing along her family, friends, and one, shall we say, enemy, on a trip to Las Vegas. This book picks up right where the last one, Shopaholic To The Stars, ends. In the newest installment,
Shopaholic to the Rescue
, Becky and her group rent an RV and head off on a search for Becky's father, Graham, and Tarquin, her best friend Suze's husband. Graham and Tarkie abruptly left Los Angeles to take care of "something". With no one knowing what the two are up to, Suze and Becky's mom are worried and are convinced they have to find them. So Luke becomes the driver and they set off from Los Angeles to Las Vegas in search of the two men, all while encountering many interesting events along the way. Becky feels as though it could be her fault as she ignored her father while he was in LA and is harbouring a lot of guilt. Also, her best friend Suze has suddenly taken up with Becky's enemy, Alicia, and Becky feels threatened.
Once again, Sophie Kinsella takes us on a wild ride with Becky and her family and friends. There is never a dull moment. And while I love Becky's normal wild demeanour, for the majority of the novel you realize that something is very much off. She is not her normal self and her quirkiness has gone astray. Between feeling guilty with her father and wondering if her friendship with Suze is over, Becky falls into a bit of a slump. But through it all we see her husband, Luke, standing by her and holding her up. But with the lack of Becky's wild ramblings and crazy schemes, I found that I didn't enjoy this book nearly as much as the others. That being said, I did enjoy it and it was a nice easy read and the themes I found running through the book are great.
The main themes I found important in this book were those of friendship, love, and right and wrong. We see the struggle between Becky and Suze with their friendship. They have been through everything together, but something is going on with Suze, and Becky isn't sure their friendship is strong enough. But Luke pushes her to see her true self and to overcome any obstacles. With this push Becky is able to confront her fears and realize that not everything is at is seems to be. True friendship can withstand any tests thrown at them. We need to consider ourselves lucky if we have even one friend in our life with whom we can confide anything in. And I can't help but feel grateful to have a true friendship that can stand the test of time and distance.
It's endearing to see the theme of love in this book. We see how true love can help you through some tough times and true love is forever. It's honest, forgiving, and strong. We see this theme between Becky and Luke, Suze and Tarquin, and also Becky's parents. They each have their own challenges to overcome, but the love they have for each other helps them through it.
The last theme I wanted to touch upon was the contrast between what's right and wrong. Of course there are quite a few instances in the book where the characters are faced with what to do, but ultimately the good always outweighs the bad and the truth always comes to surface.
I do love the way Kinsella weaves the tales of her characters throughout the story and how she hooks you and pushes you to read 'just one more page'. While this wasn't my favourite Shopaholic book, I did thoroughly enjoy it and really took the message to heart. We need to remember what's truly important in our lives and be grateful for what we have. We need to do what is right in our hearts and pursue what we consider to be righteous.