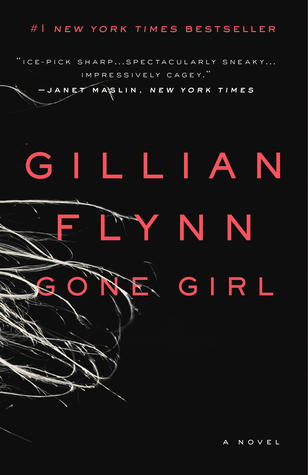 Wow! I don't know why I hadn't read this book before now, but I sure am glad I did! I was hooked right from the start!
Gillian Flynn
has just the right amount of suspense and intrigue to keep you turning page after page, wondering if your instincts are right.
Gone Girl
is a page turning masterpiece! It takes place in a small town in Missouri, North Carthage. We first meet Nick on the morning of his and his wife's five year wedding anniversary. Nick and Amy Dunne are preparing for their celebrations when Nick finds out that Amy has suddenly and mysteriously disappeared. From Nick's inner ramblings and daydreams we learn he isn't always the picture perfect husband. And then we are shown Amy's own musing from her diary where we learn how she is a perfectionistic alpha-girl. Nick quickly finds himself under intense pressure from the townspeople, Amy's parents, and the police, and with suspicion mounting against him, he finds himself drawn into his own set of lies and deceit. We find Nick behaving rather inappropriately for a husband who's wife is currently missing, which leads to him being the prime suspect. But even though he is acting weird and is definitely bitter at his wife, Amy, we are left wondering if he really could be a killer.
Flynn takes us on a ride through varying viewpoints, looking through the eyes of Amy's diary, and then back and forth through the eyes of Nick. I love having varying viewpoints on one story. And as you go on through the book you also find it broken into three parts. All with a drastic twist to the story. Gone Girl really makes you look at the minute details in our everyday lives and behaviours. It makes us question our own basic instincts and what drives different people to behave in such drastic ways.
There isn't a whole lot I can say about the book without giving away some of the major twists and turns it takes, but it definitely captures the intrigue and suspense. Gillian Flynn has so many layers twisted throughout her very believable characters. Things are written in such a precise way that it all unravels dramatically. There are so many clues that I'm left wondering, after reading it, what I could pick up on if I were to read it again.
I have never read a book like this before. Flynn has such an original and suspense thrilled storyline that is utterly flawless. Flynn explores such dark depths found in psychology and explores the inner makings of a sociopath. It makes you wonder if you can ever truly know somebody, inside and out.
If you haven't yet read this book or seen the movie, I'd suggest giving it a read first. I always find books more interesting than the movie and prefer to read before watching. As for me, now that I have read Gone Girl, I look forward to the movie and hope it lives up to the book.