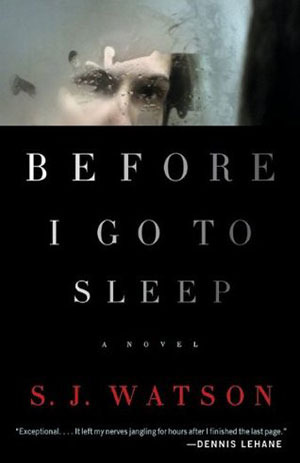 Before I Go To Sleep
is one of those books that just grabs you from the start. It's a captivating thriller that pulls you in and when I finished the book, I was still shocked and my mind was reeling. Before I Go To Sleep, by S.J. Watson, is about a woman named Christine whom upon waking each day has no idea where she is, who is laying beside her, or even how old she is. Every night when she closes her eyes and falls into a deep sleep, her mind erases everything she has learned that day and most of her past. Most mornings she wakes up feeling as though she is still in her twenties, sometimes as a teenager and sometimes as though she is still a child. Our memories are what moulds us into the people we are, so what do you do when you don't have those memories? How would you live your life? Every night she forgets the peoples she loves, yet every morning there's someone there beside her who has to explain it all to her again. Through pictures with labels on them, and the help of her husband Ben, Christine begins to piece her life together day by day. Then, with the help of a Doctor, she begins to keep a journal documenting her day to day discoveries. But Christine begins to wonder if that one person whom she can rely on, the one and only person she trusts, is keeping things from her, only telling her half of her story.
What an exceptional psychological thriller. This book plays on such an interesting topic, memory loss. And it just shows us how intricate our brains really are and how much we still don't understand about the way they work. As I said already, our memories are what define us, it's what makes us who we are. I can't imagine what type of life it would be to just exist, never remembering who you are, how old you are, who the people around you are and why they are there. It must be a struggle every day to wake up and relearn what has already happened. As hard as living that life would be, I think being the one to take care of them would be just as catastrophic. I know that cases of these rare diseases of amnesia like this may or may not exist in our real world, but whether it's fiction or not, it's still compelling.
The structure of this novel is very different from any other books I have read. The bulk of the middle consists of pages of her journal, and while some of it is repetitive, I found it very informative and suspenseful as while reading it, you are experiencing what it would be like to have that illness and rediscover it all again. It also helped me to remember little things that may have slipped my mind. The startling discoveries that Christine makes every day kept me hooked. Definitely a good read.