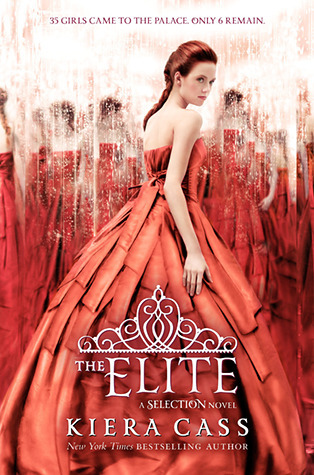 The Elite
is the second book in The Selection series by Kiera Cass and in this book we find that the selection has been narrowed down from 35 to just six. With such a small number of girls left the competition has become more intense as the girls try and win Prince Maxon's heart and crown. Most of the girls know what they want, but America is still trying to figure out what her heart desires. Is she falling in love with the Prince or does her heart still belong with her first love, Aspen? America needs to decide quickly what it is she wants. Before it's too late.
As we move further into the Selection, we learn more about the Prince and his parents. We also learn more about the remaining girls and their personalities begin to shine. This second book is full of drama and intrigue. We see America struggling with her heart's desires. One minute she thinks she loves Aspen and the next minute she seems to be falling for Prince Maxon. It did get frustrating with her constant back and forth. It seemed that every time she was with one of them then she was swept away into their world and she could only imagine her life with him. But the minute they left she was confused again. This is a typical love triangle in which she can see herself with both men and loves them both, but is struggling as to which one she loves more and is meant to be with. But while she is struggling with her emotions, the other girls know what they want and are fighting for it.
Even though the girls are fighting for the same thing and only one of them can have it, we start to see some friendships develop. Being in similar circumstances seems to create sympathy among the girls and since they are in it together they begin to grow closer to one another, just like Queen Amberly made lifetime friendships with the girls she was in the Selection with. I like how we learn more about Queen Amberly and with the girls we realize how true her words are. The differences between the King and Queen are quite evident and help to make the story an interesting one. They help to balance out the good and the bad and we learn why Prince Maxon is the way he is and how he has so much compassion in his heart.
Amongst all of the love triangles and some backstabbing drama, there is a whole other story developing with the rebels. We are learning more about the two groups and how differently they operate and why. Cass is good at relaying just the right amount of information when it's deemed necessary in order to create chaos and drama in the castle and in the castes.
Even though some parts I found to be predictable, there were many times where I was shocked and blown away at the turn of events. This book is a quick and easy read with good description and storytelling. You really get a sense of the setting as the girls are thrown into circumstances taking them all over the castle.
Amongst the love story there is such a strong tone with good versus bad. Not only with the King and Queen, but with the rebels. We learn sometimes you don't know everything and what might look terrible and incriminating from the outside really isn't so. You need to be fully informed of everything before you make a decision that could affect a lot of other people.
I think the thing I loved the most about this book is that, even though America struggles with who she loves, the girl she is never waivers. If anything, her integrity, morals and values are made stronger and she sticks to what she believes is right, even if it could cost her everything. She isn't broken by a man or bending her beliefs in order to please somebody else. She does what she believes is right because she is the one that has to live with the decisions she makes and the consequences.