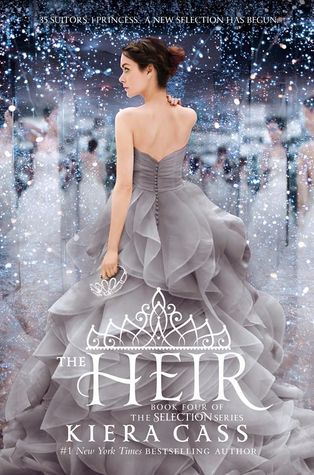 I love it when I pick up a book and can get lost in their world, and that is exactly what happens with these books.
Kiera Cass
does an excellent job of allowing you to escape into the world she has created. I originally had read the first three books in the Selection series one after another and I wasn't sure if I would pick up the other two, but I am so glad that I did. I loved reading about America Singer and Prince Maxon, so it only made sense to continue on with their story of their daughter, Princess Eadlyn, entering into her own Selection. I love how we now get to see the process from the perspective of the royal family, instead of from the outside.
The Heir
is book four in The Selection Series and it is where we first meet Eadlyn Schreave, the first born child of Prince Maxon and America Singer, now King and Queen of Illea. Eadlyn is actually a twin, but since she was the first of the two she is next in line for the throne.
Princess Eadlyn always loved the story of how her parents met, fell in love and then lived happily ever after, but she didn't think she would want anything like that. She was content being by herself and felt she was more powerful that way. Unfortunately, as she sees it, she has to enter into her own Selection because some things you just can't escape. Eadlyn is very skeptical about love in general and even more so about the prospect of finding love in such a random way, but things begin to happen to change her opinion. Her Selection begins with thirty-five eligible bachelors and after meeting a few of them and getting to know them better she starts to wonder if her own happily ever after could be possible.
Cass does another magnificent job of describing just the right amount of detail to place you right into the palace walls. You can easily picture where they live and walk the halls along with Princess Eadlyn throughout the whole book. Her characters come alive from the pages, all of them revealing just enough as you go through the Selection with the Princess. In the beginning I found Eadlyn's characteristics to be rather predictable and stereotypical, but then she digs deeper and we get to know the real Princess. She has so many levels and is easily relatable to no matter where you come from. Eadlyn's emotional side begins to break through and we see behind the mask that she wears so well. We see beneath all of the walls she has placed around her, right into the heart of her soul and we realize that she too is vulnerable.
I love how her friendships with the boys develop and how necessary they all are. Eadlyn had grown up believing she was so powerful and was hesitant to let anyone in. But upon opening up and getting to know a select few, she is realizing just how important friendships and relationships are to her existence. We all need a few close people in our lives to lean on and having a best friend is so important. Just one special person with whom we can open up and be ourselves with makes a world of difference and Eadlyn is quickly discovering that.
I just love these books and I can't wait to see how Eadlyn's Selection ends! What a fun, quick read.