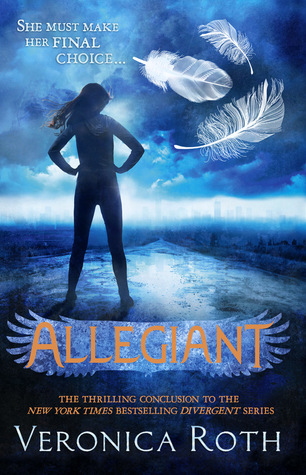 What if everything you believed in and the world you lived in turned out to be nothing like what you had expected? What if your whole basis of existing in that world was turned upside down and you found out you had no privacy and were being manipulated your whole life? What would you do? Well, I finally finished the Divergent trilogy. In the third book,
Allegiant
, Tris Prior has realized that her world that she has lived in her entire life is becoming destroyed by violence, betrayal, people struggling to surpass others for power, and she has lost a lot of those that she cares about and what she held as truth. So she and Tobias decide to leave Chicago and go past the limits of the city to see what awaits them outside. Tris is hoping that beyond the fence she will find a simpler way of life. She is tired of all of the lies and grief she is feeling. Unfortunately she is quick to find out that this new world is no better than the last, if anything it is even worse. The truth they thought they had uncovered while still in Chicago becomes lies. Some of the new things that they learn change those around her and Tris must figure out who she is now more than ever. She needs to figure out her allegiance, which she should be with. She also learns how courageous she is, and how strong the power of love is.
The first book was by far the best one written, but I didn't mind the other two. The third book, Allegiant, started off a lot slower than the other two, but it was a nice change of pace. Part way through it began to get a bit confusing trying to keep track of all of the new characters and what it was they were trying to accomplish. I had to re-read a few things to get back on track. But the turn the series takes is quite an unusual one. The truth about their lives and how they were living was shocking.
You didn't know who to trust or who was telling the truth. There were lies being told all around and Tris and Tobias had to begin to trust their own instincts to figure out who they could help and believe, unfortunately they didn't always agree on whom to trust, which made their love for each other challenged.
There are so many themes again in this book. Once again it deals with right and wrong and the struggles internally as to what to do. Tris searches in herself to figure out what's right, not only for her, but for those she loves. What is the right thing to do in a world that is filled with lies? I love how we see all sides of Tris in this book. We see her not only as the dauntless initiate, but also as an emotional teenager trying to figure out how to deal with her grief and her love. She is still dealing with her grief and all that she has lost and I love that we see that even though she is a heroine and is strong, she also has a soft side which we can all relate to. We can't all be strong all of the time and this book is an excellent example of that.
The theme of love is strong in this book. We see Tris and Tobias get closer than we ever have, but we also see them struggle as they try to figure out their own allegiances and who they can trust. We even see a bit of jealousy unfold.
I really like the way Roth ended the series. I won't say much, as I don't want to give anything away, but I'll just say that the way things come together, we almost see things come full circle, yet in a much better world. Everything they went through and everything they lost was not for nothing. Change can happen if you are diligent about it and passionate about it. Change does take time, but every little step in the right direction helps to bring it on. And sometimes change is good.