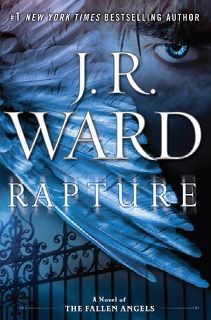 When I first picked up Rapture by J.R. Ward I had no idea what to expect. It is part of the series of books called The Fallen Angels and I hadn't read any of them before, but I was hoping I could pick it up and still know what was going on. Thankfully I could.
The story centres around a female reporter, Mels Carmichael, who writes for the Caldwell Courier Journal and a man named Matthias. Matthias comes into her life outside of the local cemetery. While driving home one night he just happens to limp out in front of her car. Without any time to react she hits the man and then crashes her car. While in the hospital she finds out he has amnesia and so she wants to help him recover his memories, not realizing just how scary those memories could be. While uncovering those memories they also find themselves falling passionately in love with each other, like they never had before. One thing that Matthias does remember from the start is the name of 'Jim Heron' on a gravestone, so their search begins there. Heron is a fallen angel who's job is to rescue souls from the seven deadly sins. Heron is in for a fight between good and evil once again when it comes to Matthias and we find that his soul is on the line. But from the memories he recovers, it's hard to see how one who has done so much wrong in his life could redeem himself enough to save his soul.
Of course, as you could tell from the description, we find the overwhelming theme here to be good versus evil. We have the fallen angel, Jim Heron, fighting against a demon, Devina, for the soul of Matthias. Each one wants his soul for their own reasons, and they are in a game against time to win this round and claim his soul as either good or evil. Matthias must come to a crossroads, which neither Heron nor Devina know what it will be, and will have to choose. This decision will ultimately decide who wins, Heron or Devina, good or evil. And Heron finds that it is his job to steer him to the side of good, but with his past he's not sure that is possible.
The theme of love is very prevalent throughout the whole story. And I would deem this as a paranormal romance due to the amount of description the author goes into during intimate love scenes. We find Mels and Matthias falling in love with each other despite all odds and wonder if true love can save a soul and ultimately change the course of someone's life.
J.R. Ward does a good job in explaining what is going on in each of the character's lives so much that I was able to dive into book #4 without having read the previous three and I still understood what was going on. But I am left wondering if the other novels deal only with Heron and Devina with other challenges, or if Matthias is a character throughout the novels. I also wonder if we will read more about him in the next book. My guess is we will follow the fallen angel and the demon through their game.
This book delivers a lot, from heartbreak and love, to humour and tragedy, romance and sex. I was truly captivated by both the character of Mels and the character of Matthias. As he was the main character in my opinion, I found his story fascinating. His soul was so corrupt one could not even fathom the idea of saving it, but somehow the author makes it so that you are rooting for him to make the right choice. During his amnesia you see a changed man, and even as his memories come flooding back, the decisions he makes are not reminiscent of the past, but of a new person, most likely due to the love he has found in Mels. His story is truly heartbreaking and uplifting.